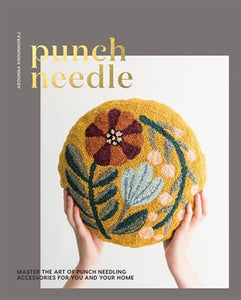 Giving this forgotten craft a modern twist is author Arounna Khounnoraj (aka Bookhou). One of Canada's most sought after mentors and creatives, she has caused a social media storm with her beautiful images and videos featuring her modern interpretation of this craft.

In Punch Needle Workshop she shows you how to create your own floral and abstract designs, teaches the basic stitches and guides you in mastering punch needling through a stylish collection of 20 homeware and accessory projects.
Arounna also shows you how to develop and translate your own designs into beautiful pieces to feature around your home. So once you have mastered the basics, you can begin to design your own creations. . . the possibilities are endless.