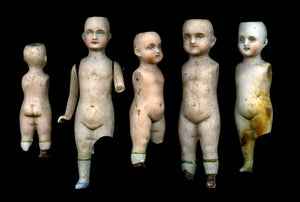 This hyper-detailed photograph is of tiny porcelain doll fragments, made in Germany in the 19th Century. The dolls were discarded due to damage. They were recently dug up from the garbage heap outside the factory where they were made and still show the dirt from burial. The dolls, only 2"-4" tall, are enlarged to exaggerate their condition. 
Measures approximately 35" x 23.75". Unframed
Each print is a digital inkjet using pigment inks on Digital Arches paper.