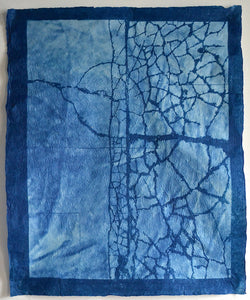 The Circulation series were created by the cyanotype process using cut paper works as the object "printed" by the sun's rays. While one can achieve precision in controlled light environments, with this series, Tania worked outside where each piece emerged uniquely from exposure to the intensity of the light and position of the sun. And, as they are true cyanotypes, each is original.  
Measures approximately 45.5" x 37"
Can be hung both vertically or horizontally
Handmade in Toronto.