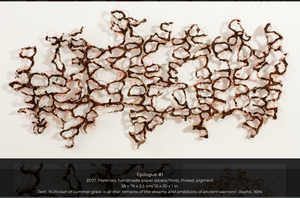 This work is from Susan's ReVisions series. This work imagines language transformed into artifact through the act of writing. Informed by aspects of calligraphy, papermaking, and the history of the book, these works explore the visual and material presence of written language when fused with its paper support.
Fragments of a poem by the Japanese poet Basho, developer of the haiku form, have been inscribed in English translation, using fluid paper pulp in cursive script in arrangements suggested by their content: "A thicket of summer grass is all that remains of the dreams and ambitions of ancient warriors"(Matsuo Basho, 1694, translation by Nobuyuki Yuasa, The Narrow Road to the Deep North).
Abaca pulp has been processed to result in high shrinkage when the paper dries, with consequent distortion of the written words. While literal meaning retreats, the interplay of form and material endows language with a new kind of presence; text and support become one, shaped equally by empty space and tangible form.
Handmade paper: abaca fibre, linen thread, pigment
Framed in white-washed maple shadow frame, measuring 23.5" x 38" x 2""